THE CHALLENGE:

Design a digital product or service, incorporating the experiences and involvement of numerous commercial users, that puts circular economy and sustainability at its heart and utilises the latest technology. It can be based on any one of these industries: fashion, food or electronics.

You should explore how one of these industries could develop their own circular economiesand then develop a digital product or sevice that helps business owners put this into practice.
THE PROBLEM:

Fast Fashion ushered in an unsustainable clothing consumpton culture contributing up to 10% of Total Green House Gas Emissions which is destroying our planet.
THE INSIGHT:

Recent education surrounding the environmental cost of clothing inspired a growing culture of conscous, secondhand consumption.

Generation Z in particular, actively buy & sell thrifted to increase the lifespan of wardrobes & the planet - all in protest to fast fashion.
THE SOLUTION:

SUSTAIN is a second hand marketplace integration will trace & make public every used garments' unique recirculation & ownership journey on secondhand marketplaces online.

Consequently, SUSTAIN will update each garment's unique Carbon Emission Displacement Score onto the IBM Blockchain showcasing the impact of purchasing used.
---
"82% of our wardrobes have not been touched nor worn in the past 12 months"
---
Digital Experience
SUSTAIN Pilot with Depop







The Displacement Concept

"For every secondhand garment purchased & recirculated, an equivalent new garment is diverted from one's wardrobe & the resource consumption of said garment is displaced"

The consequent emission displacement is attributed to the secondhand garment, and traced for the longevity of the garment in the marketplace via the IBM Blockchain.









Democratizing the Data

The same environmental clothing data found to convert Gen Z'ers into avid resellers & thrifters can be democratized through the Blockchain.

We integrate the envrionmental cost back into clothing, and shift the narrative of doom & gloom towards one of hope & empowerment in consumers.

The growing secondhand market continues to steal marketshare from Fast Fashion - sustainable actions must be met with a sustainable mindset, which inevitably starts with education.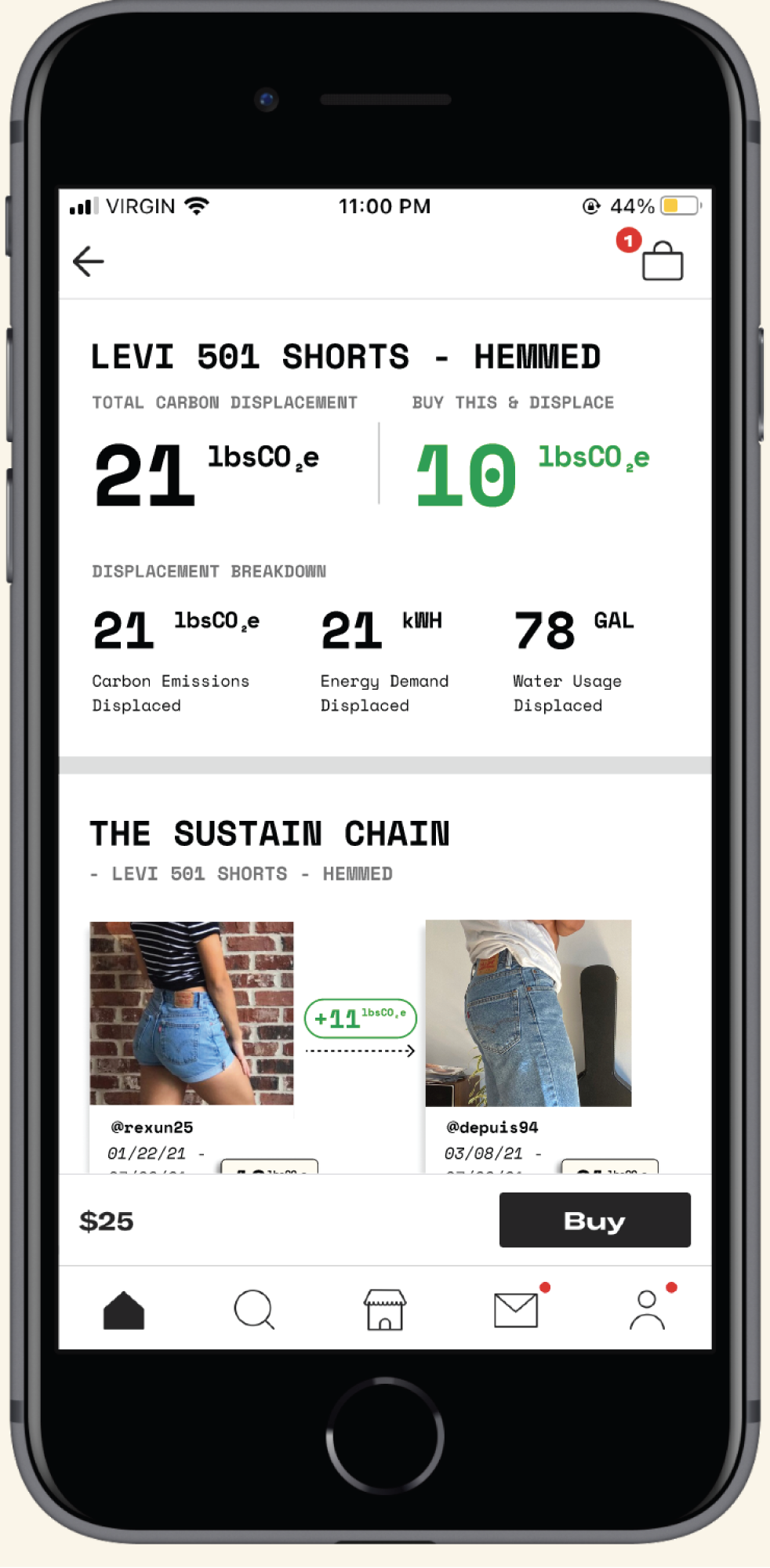 Inspiring Recirculation

Each garments unique ownership journey is showcased, unveiling another dimension of value in clothing.

Understanding one's role in the lifespan of a clothing piece & consequently the world, inspires people to take care of their garments to eventually recirculate.

Secondhand consumption is a source of identity & expression for online thrifters. Providing visibility to the history of a garment, it's past owners & usages, provides depth to the value of clothing.







Wardrobe Visbility

With each garment purchased or uploaded, one's virtual wardrobe is updated. Visibility to garment ownership + impact to the environement is made visible to drive conscious clothing consumption.

82% of the average wardrobes is rarely touched - through marketplace participation, at the very least users remain aware of the current impact their wardrobes potentially have alongside their current consumption behaviours.





Marketplace Perks

Leveraging IBM Blockchain technology, traceable virtual assets & action based rewards are made possible.

Diversity in marketplace transactions drives engagement amongst users, drives community growth & generates external revenue streams for the platforms and potential partners.

With a rise in virtual clothing NFT's & retail shifts + partnerships in the secondhand spaces, the IBM Blockchain futureproofs marketplaces to take on new types of transactions & cash in on new user consumption behaviours.
---
"shifting perceptions on clothing from short term disposable assets to long term vehicles to fight climate
change"
---
The Research

a.k.a the boring stuff